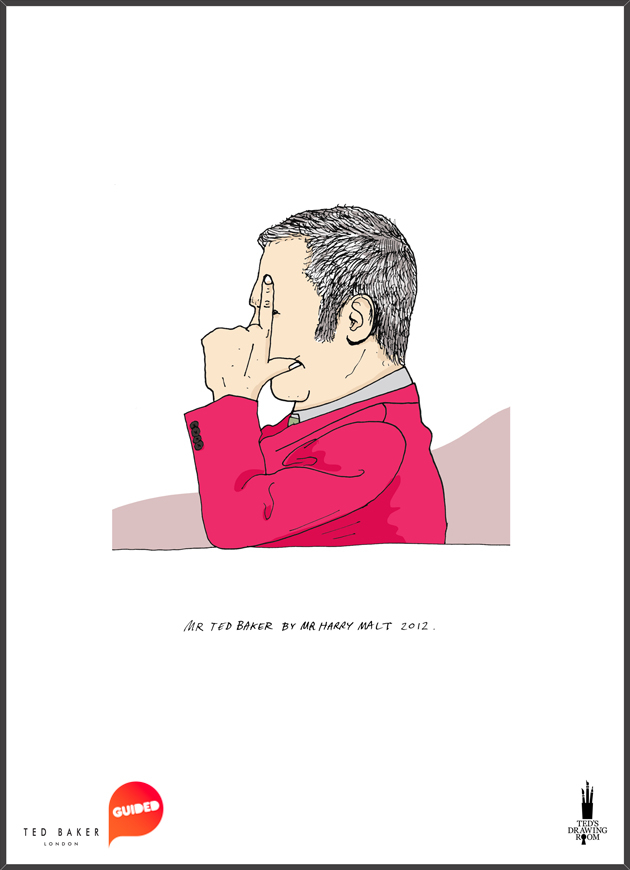 Continuing on from last years collaborations with Ted Baker, Harry Malt & Serge Seidlitz have been asked to help celebrate the in-store launch of Ted Baker's SS12 campaign The Great Exhibitionist and his Private Views, Ted with a host of other acclaimed illustrators to create a digital fashion portrait service called Ted's Drawing Room.
Launching on 17 March 2012, the initiative, devised by Guided Collective, will see over 100 lucky customers receive a signed and framed, original, one-off fashion portrait created by one of 11 top illustrators.
Shoppers will be invited to pop into store, try on pieces from the new collection and pose for a photo in one of Ted's 'Exhibitionist' photo booths. An image of their Ted look will be taken using Instagram and the photograph will be automatically beamed straight into the artist's studio – Ted's Drawing Room, situated in Ted's London HQ – to be re-created by one of the illustrators as an original piece of artwork.
The artists will 'choose their muse' from the photos sent through to Ted's Drawing Room and draw the looks that inspire them most. Ted will send those that have their portrait done a digital copy to share and show off and then a signed, framed original version soon after. The finished portraits and the photos that inspired them will be exhibited in a gallery on Ted's Facebook page.
A film crew will be on hand to capture the illustrators hard at work and will broadcast live footage back into participating stores and to Ted's Facebook page, allowing the public to watch the masters at work.
A selection of lucky customers will receive a time-lapse film of their portrait being created which can then be shared with friends on social networks.
For more information on the initiative, the illustrators involved and a list of participating Ted Baker stores please visit: www.tedbaker.com
Once finished we'll upload all the pics to our Flickr.