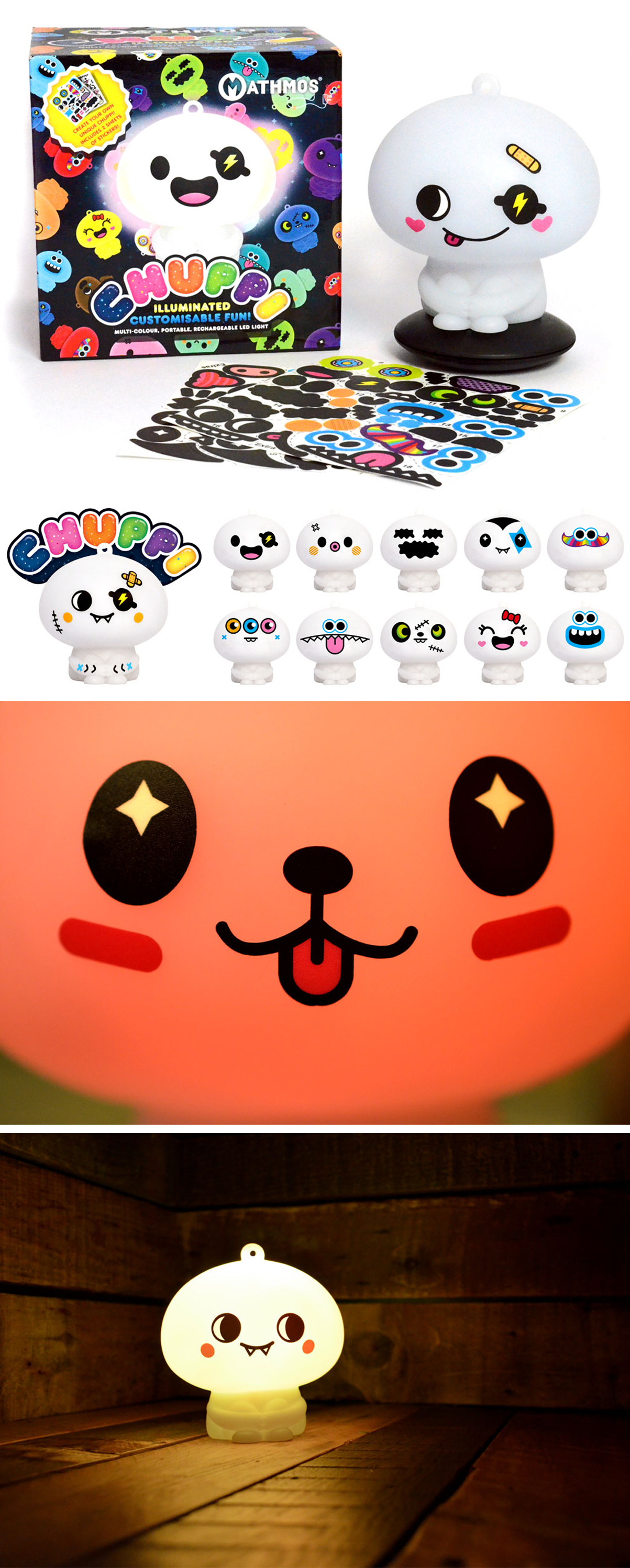 Iconic UK brand MATHMOS have teamed up with our very own graphic art duo TADO to create Chuppi – the perfect interactive child's nightlight AND an adult's collectable art toy. The wireless colour changing customizable Chuppi available internationally from the 30th April at www.mathmos.com and is priced at £30.
Harnessing almost 50 years of MATHMOS ambient lighting expertise, Chuppi can be set on a single colour or allowed to cycle through the spectrum. He (or she!) will fade off automatically after half an hour, but can also be set to stay alight. Each Chuppi comes with reusable stickers for 18 different characters allowing for full customization. Should you ever tire of your light giving companion you can simply rearrange the stickers. Wirelessly this unique customizable art toy and light lasts for up to 6 hours and you simply place Chuppi on their home to charge.
MATHMOS has a history of creating magical lights with a host of acclaimed designers including Ross Lovegrove, Shin and Tomoko Azumi and El Ultimo Grito. The imaginative work of TADO bringing them to the attention of MATHMOS who felt their style would be a perfect match for their first venture into the art toy market. Mike and Katie of TADO have also worked with Nike, Gola, MTV, Puma, Adidas, Vodafone, Elle Magazine, Star Wars, Selfridges, McDonald's, Microsoft's Zune, and Kidrobot. They produce graphics, animation, web design, designer toys and customized cars, and now ambient lighting.
Commenting on the collaboration TADO said:
"The main challenge was coming up with a fun little guy that offered something a little bit different to the customizable toy market. As such we wanted to try and make something that could be used either as it comes, or as a platform to be customized, with the added dimension of it being illuminated. The stickers we created also allow people to have some fun and get creative without having to break out the pens and paints! We worked really closely with MATHMOS to come up with the characters shape and pose, a true collaborative project in every sense of the world and we are delighted with the results."
MATHMOS invented the lava lamp in 1963 and have kept it in constant UK manufacture since; designing, manufacturing and marketing their own range of award winning branded ambient lights for nearly 50 years. Proud of their long British manufacturing history and of our Queens Award winning exports, they have produced a limited edition lava lamp to commemorate The Queens diamond jubilee."
To see more of TADO's work click here.