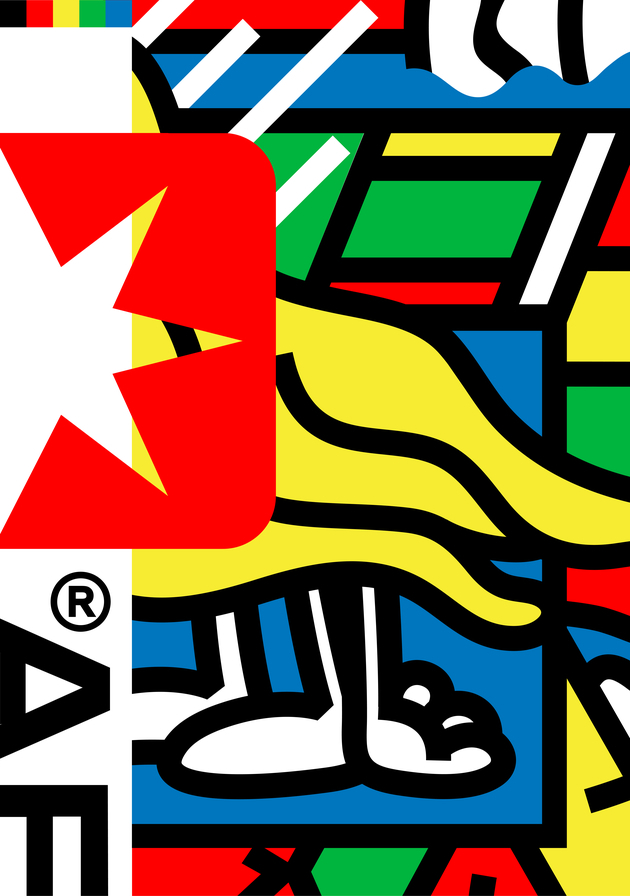 The Coningsby Gallery is proud to present a solo exhibition of H.Y.T. studio entitled 'Business or Pleasure'.
H.Y.T. studio will present a new body of work produced over the past months. Featuring a series of bold, colourful paintings. The exhibition addresses the tensions between a commercially focused style and a personal uninhibited approach.
The artist has used unwanted elements from commercial projects to create bold, semi-abstract paintings. "Most of the graphics and illustrations I make are unused. This is not to say they are 'not good enough' rather they have been deemed inappropriate for a specific task". The rejected elements have been repurposed, organised and overlaid subtly with established corporate motifs. The result is a series of paintings that are visually busy but simple, displaying techniques that are between illustration and design. Stylistic illustration and corporate iconography are objectified to exist in a gallery context, challenging our perceptions of function and purpose, existing in the space between 'Business or Pleasure'. 
H.Y.T. is the illustration and graphic design studio of artist John Slade and operates between London and Ireland. He graduated from the Limerick School of Art and Design in 2000. He has participated in exhibitions and been published in a wide variety of publications.
Exhibition Opens: Monday 9th May  - Saturday 22nd May 2016 
Private View: Thursday 12th May, 6.00pm - 8.30pm
Selected shows:
'Cukoos Nest', Museum of Folklore, Pick Me Up Somerset House, 2016 
CYAN / ANTHRACITE, group show, Hamburg, Germany, 2016 
'Later' Solo show, Beach London, 2016
'Microtopia', Kingsgate Workshops 2013
'The House Worldwide' (private event), Satchii gallery, London 2012
'Fuck Christmas Group', Hoxton Gallery, London 2011
'The Art Below' project, Gloucester Rd tube station, London 2011
'Never Judge...?', Stolen Space, London 2010
'Not for sale' Conran shop, Japan 2010
'Pick me up' Somerset House, London 2010
'We have been expecting you', Concrete Hermit, London 2010
'Glug' London 2009
'Blisters On My Fingers', Print Club London, London 2009.