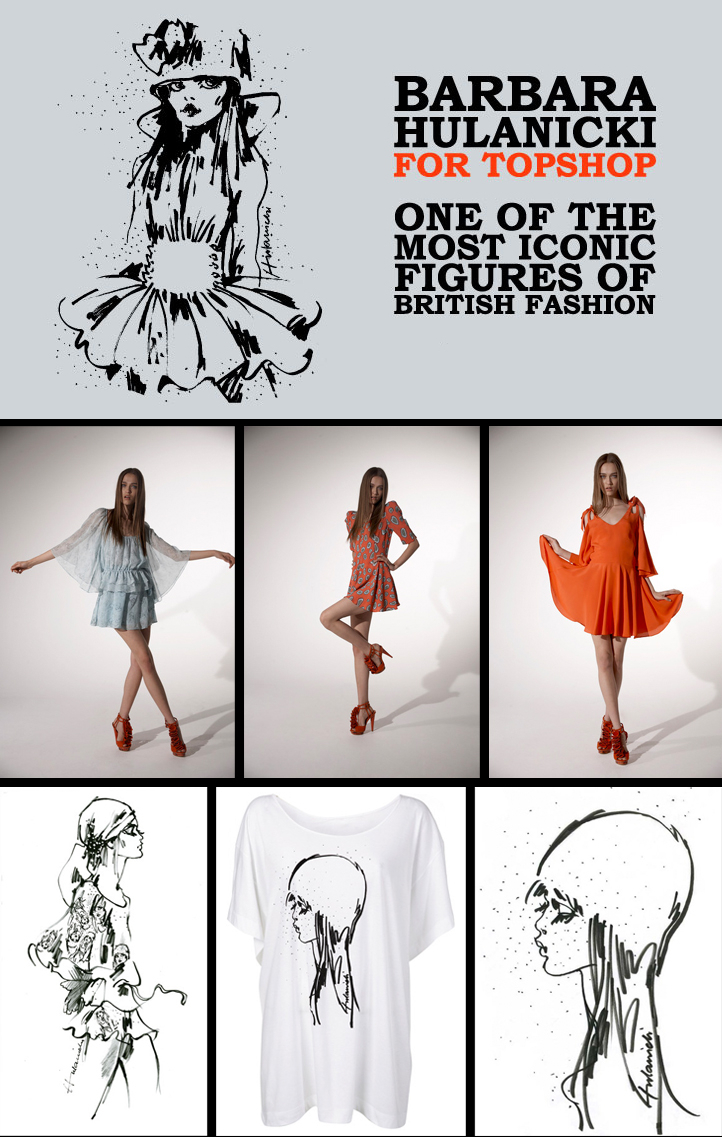 We are very proud to show you Barbara Hulanicki for Topshop. A project we have been working with Barbara Hulanicki and Topshop on for near on 7 months now.
Topshop is renowned for working with style heroes of the past, present and future, and today marks the 'oldest' youngest collaboration yet, in it's coming together with Barbara Hulanicki.
Continuing from where she left off in the 70s, Barbara Hulanicki re-joins the fashion world with an exciting series of clothes that is fresh and full of energy. Whilst rich with reminders of Biba in its heyday, the collection is a distinct move away from the pretty designs of the past. Clothes are brought up to date by modern prints and edgier shapes for a new generation of fans, making Hulanicki one of the most influential and inspirational style icons of the Twentieth Century. Having spent the last fifteen years designing furniture and hotels worldwide, Hulanicki reverts back to her first love of fashion illustration as the starting point for the Barbara Hulanicki for Topshop collection. The enchanting 'ladybug' and 'headscarf girl' designs appear on delicate chiffons, the bold 'enlarged animal print' is splashed over silks and jerseys, and quirky large placement sketches of fashion girls stand out on t-shirts and accessories. Perfect for any occasion or mood this spring, the collection takes on a split personality of Good Girl/Bad Girl dressing.
Beachwear finishes off the collection with a 'headscarf lady' printed retro-shaped bikini set and oversized floppy sun hat in either bright or pale pink, and a large beach bag emblazoned with the 'silhouette girl'; each an essential for any fashionable summer holiday!
Go go go and buy now at topshop.com. Whilst you are there, there is an excellent interview with Barbara here and an awesome video lookbook here.
Also....check out Barbara's folio here. She really wants to draw, so look forward to hearing from you.
Début does fashion.