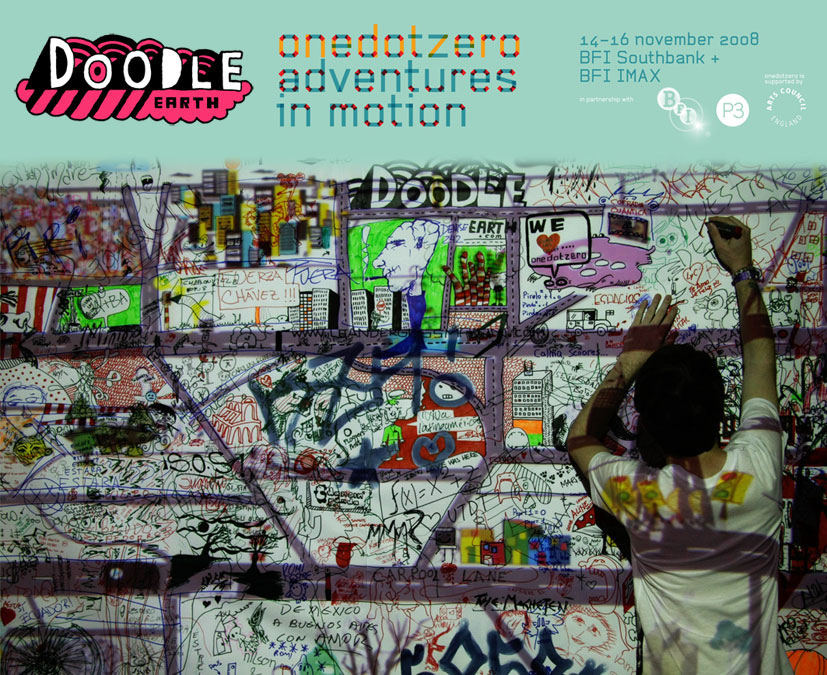 Doodlearth created by our very own Serge Seidlitz and media production studio Squint Opera is coming to onedotzero_adventures in motion this weekend.
Doodlearth is exploring the similarities in the creative process between architecture, illustration and sound. As Doodlearth travels the world it is gradually building into an ever expanding animated global city map.
Doodlearth is a collaborative live interactive illustration / art event, that brings together people from around the world who have a passion for doodling. Audiences are invited to add their interpretation of their city and environment, to create a unique animation, so that different styles of illustration appear next to each other, reflecting the multitude of ideas, lives and architectural styles in cities.
The process begins with 20 artists illustrating elements of London, which are then animated to create a unique 40-minute film, and visitors are then invited to grab a pen and illustrate what they want to add to the city.
Come and doodle! - find Doodlearth in the foyer of BFI Southbank, 14-16 November. Free of charge, pens provided, all ages welcome!
onedotzero_adventures in motion, the world's most innovative festival of motion arts and entertainment celebrates a new partnership with BFI Southbank, with a packed three day festival this November. This year's festival theme is citystates, a creative inquiry into the idea of how we live in the modern metropolis.
In addition to screenings, hands-on-workshops and explosive live AV and music events, visitors will have the opportunity to be part of a unique collaborative project and show their personal vision of their city with Doodlearth.
Illustration and animation fans should also check out onedotzero's new compilation programme Top Draw, a curation of crafted hand drawn visions across poignant music videos and expressive personal shorts. A delight off the page and onto the screen. Adrian Shaughnessy, designer, writer and editor of Varoom magazine will introduce works and creatives featured in the programme.
Top Draw screenings:
Sat 15 Nov 18:10 BFI Southbank NFT3
Sun 16 Nov 14:00 BFI Southbank NFT3
NOTES + MORE INFO: onedotzero_adventures in motion 14-16 November 2008 BFI Southbank + BFI IMAX
During three exhilarating days, onedotzero_adventures in motion, in partnership with BFI Southbank, will present a diverse and radiant showcase of visionary new work and pioneering talent in audiovisual, music, moving image and digital and interactive arts.
The festival showcases the brightest up-and-coming talents alongside world-leading creative luminaries; bringing together the most innovative short films, animation, motion graphics, music videos, groundbreaking feature film previews with director Q+As, alongside interactive installations, explosive live audiovisual and music performances, artist discussions, hands-on toy-hacking workshops and parties.
Over its twelve-year history, the onedotzero festival has developed a burgeoning audience around the world, hungry for visual adventure and alternative entertainment, and is thrilled to return to London with a new partnership with BFI Southbank.