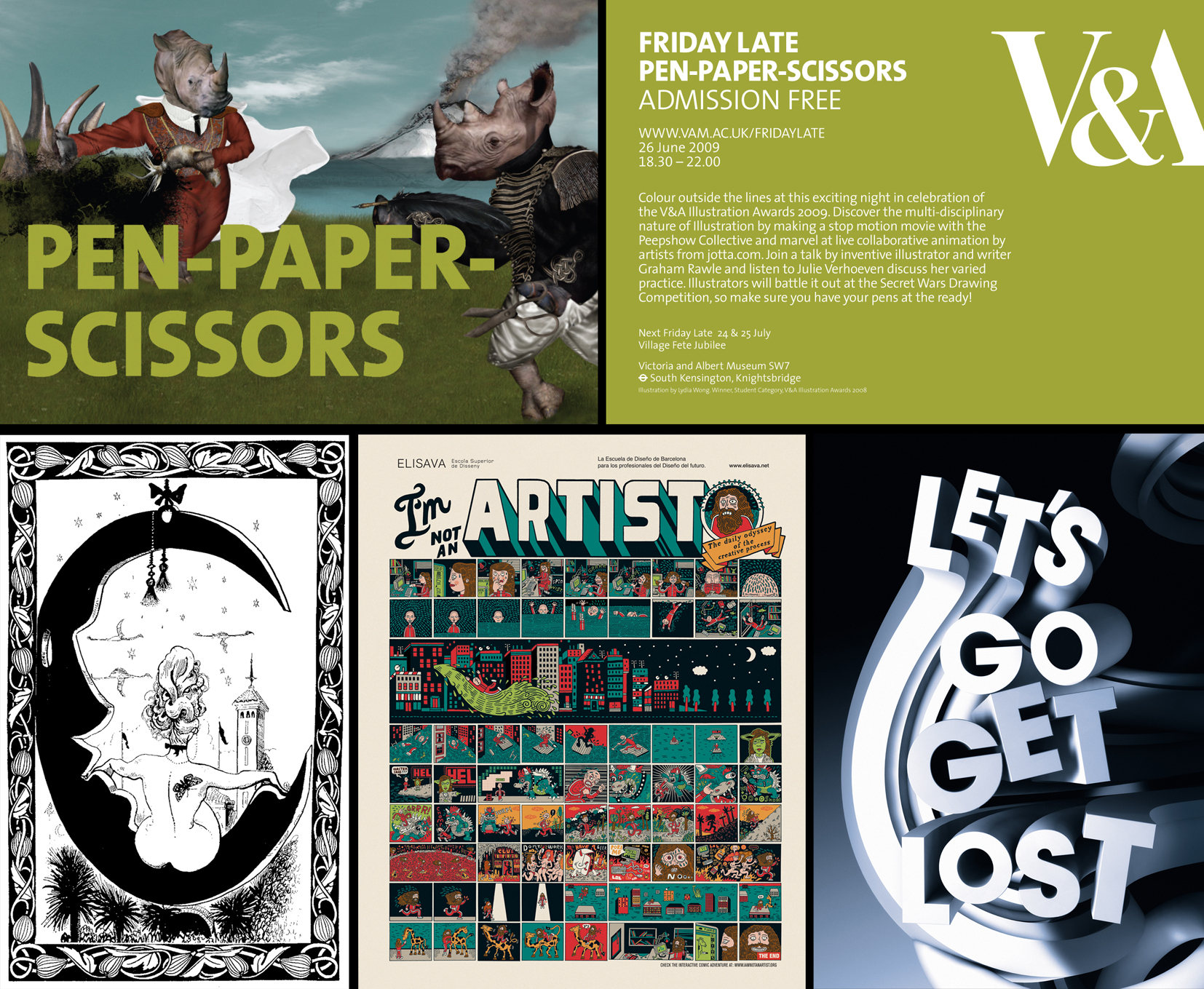 Chris Price, Serge Seidlitz and Craig Ward will be drawing, painting, and collaborating in creating a live artwork at The V&A on the 26th of June 2009.
The event, Pen-Paper-Scissors, is part of their ongoing Friday Late events programme.
The night is devoted to the crossover between Illustration, Graphic Design and Animation in celebration of the V&A Illustration Awards 2009. The key emphasis is on the multi-disciplinary nature of illustration. Hence our involvement.
Our guys will be joined by 3 of the best illustrators from Dutch Uncle, who will be pitting it out for 90 minutes in a live Secret Wars "battle" in the John Madejski garden. The collective artworks will then be judged by 2 appointed judges, both from the V&A, with the additional final vote coming from the all important crowd via a decibel reader. Yep, a decibel reader.
Harry Malt will also be running a drawing workshop in the garden. All artworks created at the workshop will be exhibited on the night, with the best pieces (judged by all the competing artists) being given signed sections of the final Secret Wars artworks. Not sure how many sections will be up for grabs but should be a very cool prize.
Other goings on on the night include, talks with Julie Verhoeven and Graham Rawle. As well as screen-printing workshops, live animation and Peepshow creating a live stop motion film during the course of the evening.
It's free to get in, and there are bars running all night so please do come on down.
The V&A is pretty easy to get to. Check this link for how to get there either by foot or good old public transport.
Look forward to seeing you there and make sure you shout loudest for our boys Chris Price, Serge Seidlitz and Craig Ward.